SHERWOOD is an introductory game providing simplified rules that are based on the highly successful Cry Havoc series. The game has two levels of rules: one intended for young players (10 years and up) and those new to wargaming; a second level introduces additional rules that provide a more realistic gameplay. Finally, experienced players will be able to play with the complete rules of the Norman Saga series.

This wargame allows players to immerse themselves in the adventures of the famous Robin Hood and his band of outlaws. They will face the terrible Sheriff of Nottingham and his men in multiple skirmishes in Sherwood Forest or in the nearby village inn.
Rules are intended to simulate man-to-man combat, missile fire with bows, crossbows, or javelins. It's possible to ambush your opponent by pouncing from trees.
Box Contents
> (4) 11" x 16" (or 28 x 40 cm) full-color tactical maps
> (1) 8" x 12" (or 21 x 29.7 cm) counter sheet printed in full color
> (1) 24-page booklet including the rules the historical background and 8
scenarios
> (1) play sheet for handy reference
> (1) 10-sided die > (1) counter tray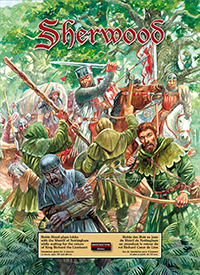 Available End of November 2022!
Pre-order now!
The characters are displayed through counters using the Outremer/Croisades format. A 3-letter marking system will enable easy differentiation of the various playing pieces on the maps.

Counters are available on one A4 sheet:
> A4 counter sheet,

Front

- Back -

Completed: 8/15/2022

Note: Click on the counters below to see the various stances of each character (wounded, on foot, stun or dead).
Robin Hood and his Merry Men

> Robin

> Will Scarlett

> Maid Marian

> Little John

> Friar Tuck

> Gilbert

> Reynold

> Alan-a-Dale

The Villagers

> Blacksmith

> Peasants 1

> Peasants 2

> Peasants 3

> Hardouin

> Garulf

> Isaac

> Rebecca

> Mildred

> Waleran

The Knights

> William of
Wendenal,
the sheriff


> Sir Guy de
Gisbourne


> Sir Brian de
Bois-Guilbert


> Sir Wilfred of
Ivanhoe

> Sir Roger

> Mounted
Sergeants

The men-at-arms

> Light infantry 1

> Light infantry 2

> Crossbowmen

> Javelinmen

> Medium
infantry 1

> Medium
infantry 2

The accessories

> Carriage

> Cart

> Draft horses

> Coffer

> Deer

> Wolfs

> Ox

> Pig
The game will include 4 tactical maps: The Inn, which presents a small hamlet at the edge of the forest with a forge and an inn that is accessed by a balustrade; The Forester's Cottage, with a secluded house in the forest; The Wood's Edge and The Gulch, with a recessed passage to enter the forest.

> The Inn
> A3
(40cm x 30cm)
> A3
(40cm x 30cm)

> The Gulch
> A3
(40cm x 40cm)
> A3
(40cm x 30cm)
Map Assemblies

The maps allow for many different combinations, from a village in a glade to a deep forest.
The Rules
First draft
Sherwood has been specifically designed for newcomers and the younger generations who probably do not want to deal with a 50-page rulebook.
These rules were written by Martin Krauel. They include 2 levels:
> a 'Page' level, for young kids. 3 pages only!
Page level (PDF)
> a 'Squire' level, for newcomers. These rules are only 7-pages long. The draft copy is published on Google Docs for you to be able to comment and suggest modifications.
Squire level (Google Docs link)
> The third 'Knight' level are the standard rules of the Norman Saga. Note that Sherwood is totally compatible zith the other games of the series.